VUNO Med-Fundus AI
VUNO Med-Fundus AI provides major findings necessary for the diagnosis of retinal diseases based on fundus images.
Submit Inquiries
AI-based diagnostic supporting solution for the fundus of the eye
Korea's first innovative medical device
MFDS(K-FDA) approved
CE Certified
Workflow Improvement
Workflow Improvement
It helps intuitively check the presence of 12 abnormalities and locate them.
Drusen
Hemorrhage
Hard Exudate
Cotton Wool Patch
Vascular Abnormality
Glaucomatous Disc Change
RNFL Defect
Membrane
Chroioretinal Atrophy
Non-glaucomatous Disc Change
Macular Hole
Myelinated Nerve Fiber
Ready to Support
Ready to Support
The software automatically locates optic discs and macula to mark eight regions of the fundus* and help diagnose the drawn regions.
Macular
Superior optic disc
Inferior optic disc
Temporal
Superotemporal
Inferotemporal
Superonasal
Inferonasal
Training Dataset
Training Dataset
Based on a total of 103,262 fundus images on which 57 ophthalmologists* executed a triple reading, the diagnostic supporting system detects abnormalities in fundus images.
References. Development and Validation of Deep Learning Models for Screening Multiple Abnormal Findings in Retinal Fundus Images. S0161-6420(19)30374-4.
Fundus AI Report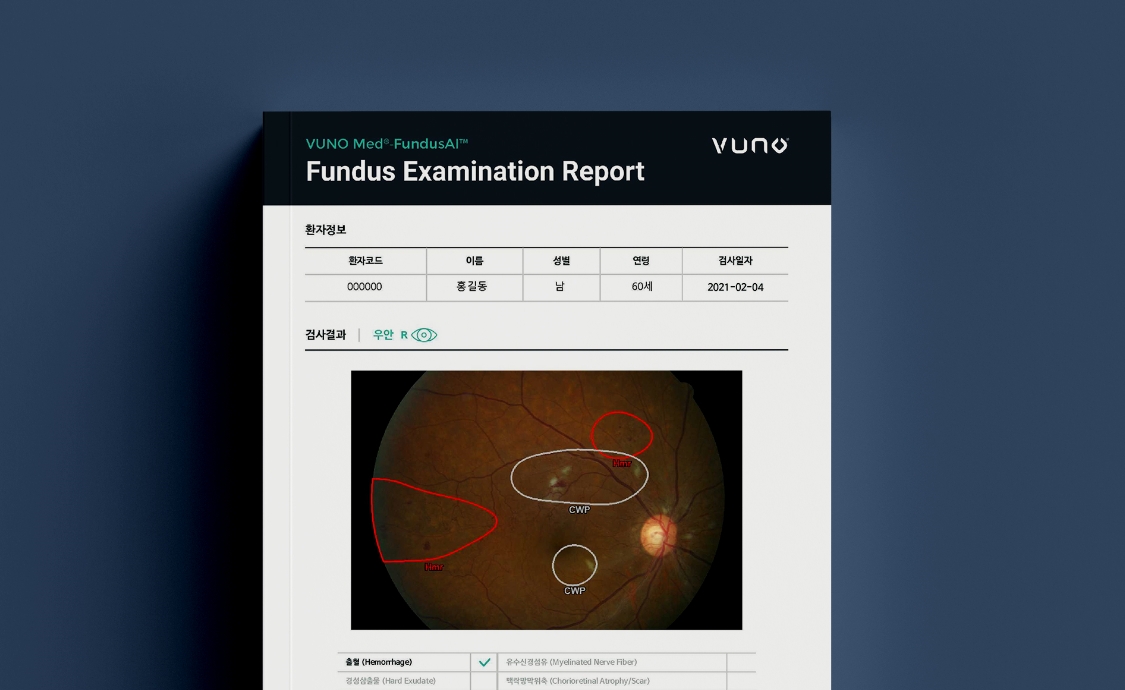 Fundus AI Report
VUNO Med-Fundus AI provides a patient report containing visualized abnormality findings that facilitates doctor-patient communication with enhanced patient satisfaction.
Request a Demo for VUNO Med®-Fundus AI™
Apply for a VUNO Med® solution demo!
Check to see how VUNO Inc. can help you technologically.
Submit Inquiries